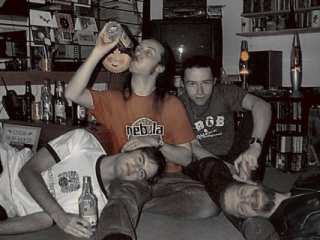 Graham: So, how are Marshan today?
Marshan: We're doing cool at the moment, we got played on Radio 1 again last night so we're diggin' that baby, yeah, we're trippin' on that man.
Graham: You're quite a new band, care to give us a quick history?
Marshan: We started gigging in 97 under the name Dying Sun. That was more doom based stuff than we do now. We changed the name in 99 because it no longer reflected the music we were playing, and in 2000 recorded Kings Thursday with Dave Chang (at Philia Studios). From that we hooked up with the Casket guys who put the CD out in July 2001. At the moment we're groovin' on the Nu-Titans tour.
Graham: How did you all meet? What other bands have you been in before?
Marshan: Me and Graeme have known each other for years, and we met Scott and Malky in late 95. We formed Dying Sun in 96 which was the first band any of us were in that actually got off their arse to do anything.
Graham: Another UK mag commented that not many stoner-rock bands from Scotland. A fair comment?
Marshan: If you wanna call it Stoner Rock, then I guess we're probably the only one. There are some retro type bands around who come from the indie side of things, but we've always been included in the metal scene so we haven't really integrated with those bands yet. Thankfully the British scene as a whole is a lot stronger, with bands such as Black Rock, Hangnail, Khang and Sally. The cool thing about the UK scene at the moment is that bands aren't just trying to copy each other, they all have something original to offer.
Graham: What sort of bands do you listen to?
Marshan: We listen to a lot of different stuff, including things like Hendrix, Muddy Waters, Gong, Elvis, Zappa and obviously Sabbath/Purple/Zeppelin etc.
Graham: Most of the bands I knew from Scotland were big death / grind bands?
Marshan: Yeah, the Scottish scene tends to be more extreme than the stuff we're doing, but we dig bands like One Root and Divide.
Graham: How did you hook up with Casket Music ?
Marshan: We went down to Philia Studios for 5 days in October 2000 to record "Kings Thursday on the Friday Street". Obviously the studio is owned by the Copro guys, and we got talking to Mike while we were down there who said they might be interested in releasing it on Casket. Then in early 2001 Jose contacted us and we sorted out a deal.
Graham: Where did the name come from?
Marshan: Well we suck at names, so we went down the pub and many pints later Marshan was born. We wanted a name which didn't categorise us so we went for something that didn't really mean anything but sounded kinda cool.
Graham: Are you believers in life on other planets?
Marshan: Yep, we're arranging a tour at the moment…
Graham: What is the meaning behind the title?
Marshan: We've got a competition going on the website (http://marshanrock.com) so we can't reveal the answer, but here's a couple of entries so far… "To me it sounds like the Kings are influential, or famous people of yesterday, having a sample of the future.." and "is it a small pink banana which rather than going brown when it gets old goes a grey-purple colour with a bluey tint, and when eaten turns you into a large smelly monster with 8.74 eyes, 300 arms and 4 sets of unmentionables??".
Graham: While we're on the subject, what in the name of all things sane is a funky fork?
Marshan: Like we said before, we don't come up with names till the last minute, and... well we felt like we had to pay homage to the mighty indestructible plastic fork.
Graham: ....and a mutton chop hop?
Marshan: A Mutton Chop Hop is a sign of eccentricity. It's like having long hair, a tattoo, a huge beard… it's like branding yourself different. Becoming a slack fuckup. It's also quite similar to a Led Zeppelin title…
Graham: Anyway, what about playing live, you going to be venturing across the border?
Marshan: We're doing the Nu-Titans tour at the moment, playing with other cool bands like Tripcage, Occupational Hazard, One Root and Fony. We're also trying to hook up with some other stuff for later in the year, we'll see what happens…
Graham: Do you get your influence from... ahem.... mother nature?
Marshan: We don't need mother nature baby, we're fucked up enough!!
Graham: Thanks for your time, any final words?
Marshan: Just thanks to everyone who's helped us so far, especially the big bird in the mushroom tree. Oh, and cheers for the interview Graham